Source: Shutterstock/Nelson
Many of us are excited about the holiday season, but there's always quite a lot to do before we can enjoy it, right?
Do you already have all the Christmas gifts, or are you still looking for ideas?
If you and your loved ones enjoy traveling and you're not sure what would be the best present under the Christmas tree, this is the article you want to read!
Here you can find inspiration for presents that will make every travel lover happy. Even if traveling is not fully back yet, most of these gifts can be used at home and make you dream about your next trip. So let's check them out!
If your dream is to visit all the countries in the world one day, you might start counting which ones you've been to and which you still need to see. This beautiful watercolor scratch map is one of the most stylish ones you want to hang in your home. Once you scratch off one country you visited, it'll make you want to scratch more. Start planning your next trip with this colorful scratch map.
Source: wayipointwanders.com
Have you always wanted to have a travel map on your wall and love products made from wood? This wooden world map is a perfect decoration for your home or even your office. It's eco-friendly, handmade out of natural wood, and it'll make you want to travel more every time you look at it. If you're an introverted person, this map will help you start conversations with visitors. So why not order it now?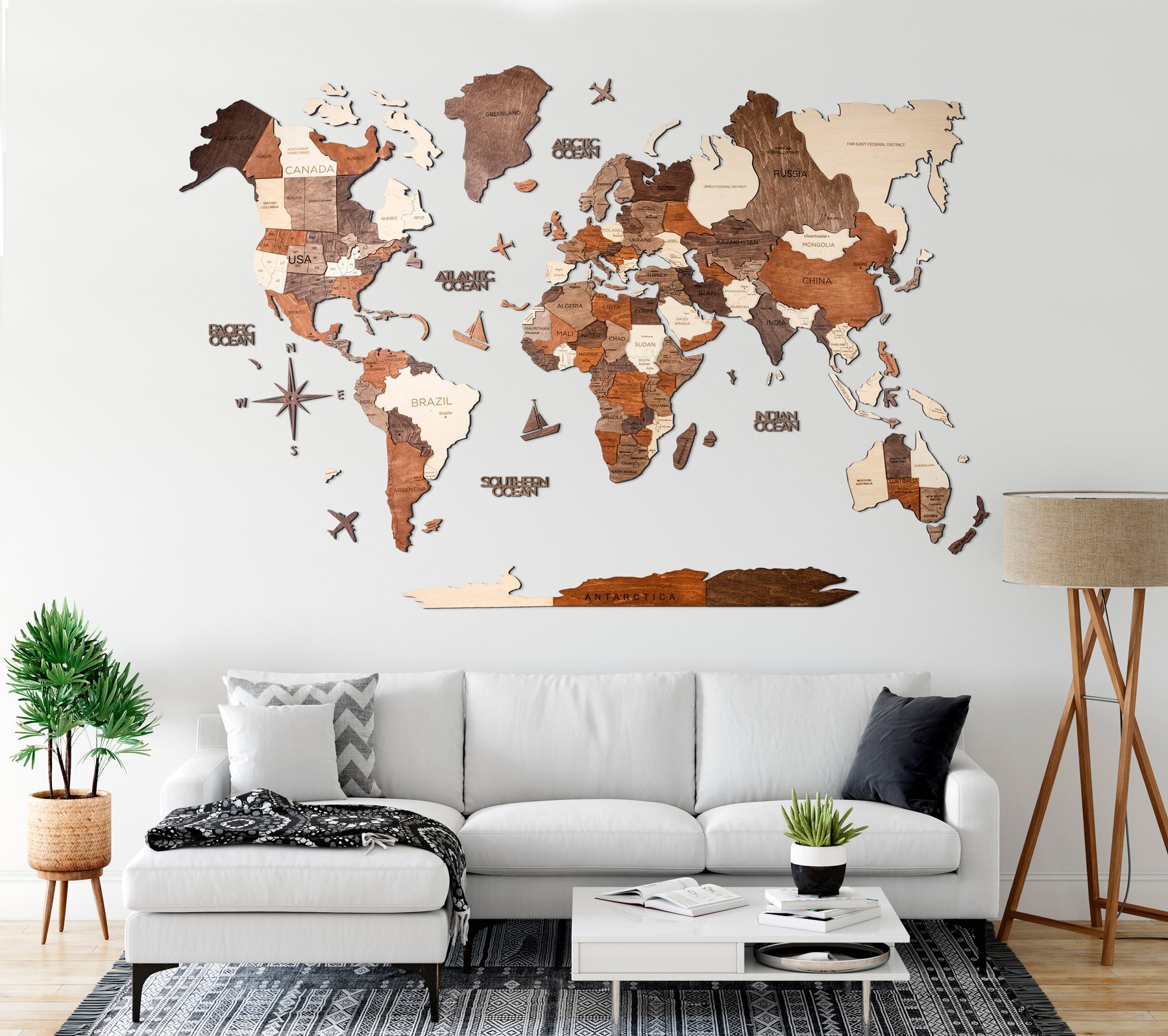 Source: enjoythewood.com
There is no traveling without pictures, right? With the cool Instax Mini 11 camera you can shoot pictures and print them at the same time. It's a great companion for your travels. It's small, easy to handle, and it has a selfie mode. Yeah! A great feature for solo travelers. Also, if you have your travel journal with you, you don't need to wait to get back home to stick photos into it. You can do it on your trip! Fujifilm offers the camera in 5 colors, so you can choose your favorite one and test it under your Christmas tree.
Source: Instagram fujifilm_instax_northamerica
Of course, the Travel Challenge Book! Do you like keeping track of your travels, checking places you've been off your bucket list, and writing down notes about everything you experienced on your journeys? Then you'll love the Travel Challenge Book. It's a must-have gift for the holiday season when you have enough time to build a travel memory book that you can share with your family and friends. The Travel Challenge Book will bring you joy and happiness every time you open it. So don't wait and get one today!
Source: travelchallengebook.com
All travelers who are looking for a nice piece of jewelry will fall in love with this cute silver world map bracelet. It's like a little reminder of what you enjoy the most – traveling. Even if you can't travel right now, this little bracelet will bring you joy and you should be ready to receive a lot of compliments from your friends and family. Don't wait and order it soon as these lovely bracelets are very popular.
Source: etsy.com/shop/JewelleryByZM
You know drinking enough water is essential, right? If you're a conscious traveler, you'll love this insulated bamboo water bottle with the word "wanderlust" engraved in the middle. It's handcrafted and made from 100% organic bamboo, and includes a removable stainless-steel infuser to make a cup of delicious tea for your trip. This bottle is an excellent substitute for a single-use plastic bottle and a lovely companion for your travel journeys. Don't you think?
Source: bhavanabottle.com
Looking for a cozy travel neck pillow that makes your car travels and long flights more comfortable? This modern neck pillow has a nice stylish design and wraps softly around your neck. You can easily just roll it up into a ball if you want to store it or wrap it around the handle of your luggage to continue to your final destination. Your next trip can be much more relaxed than you think! You don't believe it? Then give it a try!
Source: uncommongoods.com
Do you always have cold feet and freeze in the airplane? For long flights, it can be quite uncomfortable. There is nothing better than a pair of cute and warm socks that will give you such a cozy feeling. These lovely socks are a great travel companion and also perfect for lounging around the house, especially during the Christmas season. Just imagine sitting next to the Christmas tree with your socks on, sipping hot cocoa, and watching fairytales. It feels sooo homey, right?
Source: ugg.com
A bamboo charcoal toothbrush with a bamboo travel case is a great combination for your long trips. If you're a conscious traveler who just experienced a long flight and want to pass immigration in a foreign country with a nice smile, you might love this combo! Did you know that a bamboo toothbrush is more environmentally friendly than its plastic sibling? Well, it is! So now you can enjoy brushing your teeth responsibly and also use the whitening benefits of charcoal. Cool, no?
Source: greenzla.com
Gift Cards & Gift Certificates
You can never go wrong with a gift card or gift certificate if you're not sure what present would fit the best under the Christmas tree. Most travel lovers enjoy experiencing something new, so they'll be excited about such a surprise. You can choose between a variety of gift cards. Find some inspiration below:
Virgin Experience Gifts for all who love to try new things including photography classes, hot air balloon rides, and whale watching trips.
Kindle Unlimited Subscription for all book worms who love reading anywhere and anytime.
Eatwith Gift Cards for food-lovers who want to enjoy an unforgettable dining experience.
Customized Airbnb Gift Card for travelers who like alternative accommodation on their journeys.
Airport Lounges Access Worldwide for all who travel for leisure and business to enjoy a comfortable layover outside of crowded hallways. It's a great gift worth considering when flying gets back to normal.
Source: Shutterstock/Zhukova Helen
Hopefully, you've found some inspiring Christmas gift ideas and don't need to be stressed about it anymore. Have a wonderful holiday season!