Croatia Map - 14-Day Croatia Travel Itinerary
If you have Croatia on your travel bucket list and would like to spend two weeks in this beautiful country, this travel itinerary will help you plan an unforgettable trip. Do you want to visit the most popular destinations in Croatia? With this Croatia itinerary, you will see the most important places you don't want to miss.
Are you considering more than two weeks in Croatia? Then you want to check out The Complete 28-Day Croatia Travel Itinerary for 2023.
What is the best time to visit Croatia?
If you want to avoid the summer peak season and the crowds, the best time to visit Croatia would be the fall or the spring, especially September/October and May/June. In these months, Croatia's weather is still quite warm and sunny, so not only can you visit many historical sights and national parks, you can still enjoy swimming and sunbathing.
What are the best places to visit in Croatia within two weeks?
As you can see above on the map of Croatia, with this 14-day travel itinerary, you will explore the following destinations, and you can check them off your travel bucket list the second you visit each one:
Zagreb – Plitvice Lakes National Park – Zadar – Split – Dubrovnik
The best way to experience this Croatia trip is by car as you will be able to get to all places easily and you'll be more flexible as well.
Cathedral of Zagreb - Croatia
Days 1-2: Zagreb
Zagreb is the most strategic point to start your trip if you want to visit all destinations on this trip and learn more about Croatia. Zagreb is Croatia's capital city, and it's worth of exploration.
Top 10 things to do in Zagreb:
Ban Jelacic Square – a capital's main square

St. Mark's Church – one of the oldest architectural monuments in Zagreb

Cathedral of Zagreb – a major landmark in Zagreb and a must-see attraction

Dolac Market – a traditional main open-air farmer's market

Mirogoj Cemetery – a cemetery where the most famous Croatians are buried

Zagreb 360 – an observation deck with panoramic views of the city and a viewpoint bar

Tkalciceva Street – a street famous for cafes and nice restaurants

Lotrscak Tower – a historic fortified tower with a nice view (cannon fired daily at noon)

Museum of Broken Relationships – a museum dedicated to failed love relationships

Maksimir – the oldest public park in Zagreb
Best one-day trips from Zagreb
There are many one-day trips from Zagreb you can consider when staying in the city. So, if you want to include an additional day or two, here two great tips:
Plitvice Lakes National Park - Croatia
Days 3-4: Plitvice Lakes National Park
This world-famous forest reserve with 16 lakes arranged in cascades and beautiful waterfalls is located in central Croatia.
It's one of the most visited destinations in Croatia and a World Heritage Site.
From Zagreb to Plitvice Lakes, it's about 2 hours drive by car. Consider an overnight stay in a nearby accommodation to make your access to Plitvice Lakes easier and enjoy hiking without a rush.
Top things to do in Plitvice Lakes National Park:
Upper Lakes (12 lakes) – Proscansko jezero, Ciginovac, Okrugljak, Batinovac, Veliko jezero, Malo jezero, Vir, Galovac, Milinovo jezero, Gradinsko jezero, Buk, Kozjak (the park's largest and deepest lake)
Lower Lakes (4 lakes) – Milanovac, Gavanovac, Kaluderovac, Novakovica brod
At the end of the Lower Lakes, you will find the tallest waterfall in Croatia, the Large Waterfall (Veliki Slap).
How to plan your visit to Plitvice Lakes National Park?
There are more options to explore Plitvice Lakes. One of the best ones is hiking, but you can also choose a shuttle bus between the Upper and Lower Lakes or a boat ride around Kozjak Lake.
If you have enough time, you want to explore both Upper Lakes and Lower Lakes. If you don't have enough time, you should at least visit the Upper Lakes.
Be aware that swimming is not permitted in any of the lakes in Plitvice Lakes National Park.
Cathedral of St. Anastasia in Zadar - Croatia
Days 5-6: Zadar
Zadar is the oldest continuously inhabited city in Croatia, known for its Old Town's Roman and Venetian ruins. To get to Zadar from Plitvice Lakes takes about 1.5 hours by car, and it's worth to stay here at least two full days to explore this old city.
Top 10 things to do in Zadar:
Sea Organ – an experimental musical instrument, which plays music by way of sea waves

The Greetings to the Sun – a monument dedicated to sun consisting of 300 glass plates

The Roman Forum – one of the Zadar's most important landmarks

St. Donatus' Church – a Byzantine church and a symbol of Zadar

Cathedral of St. Anastasia – the largest church of Dalmatia

St. Mary's Church – a Benedictine monastery where you can see one of the city's most prized exhibits

The Land Gate – a stone gate that once served as the main entrance to the city

People's Square – an iconic square with historic buildings and a central square of Zadar

The Five Wells Square – five wells adorn the center of this square, explaining its name

Archaeological Museum Zadar – a museum with artifacts dating to the prehistoric era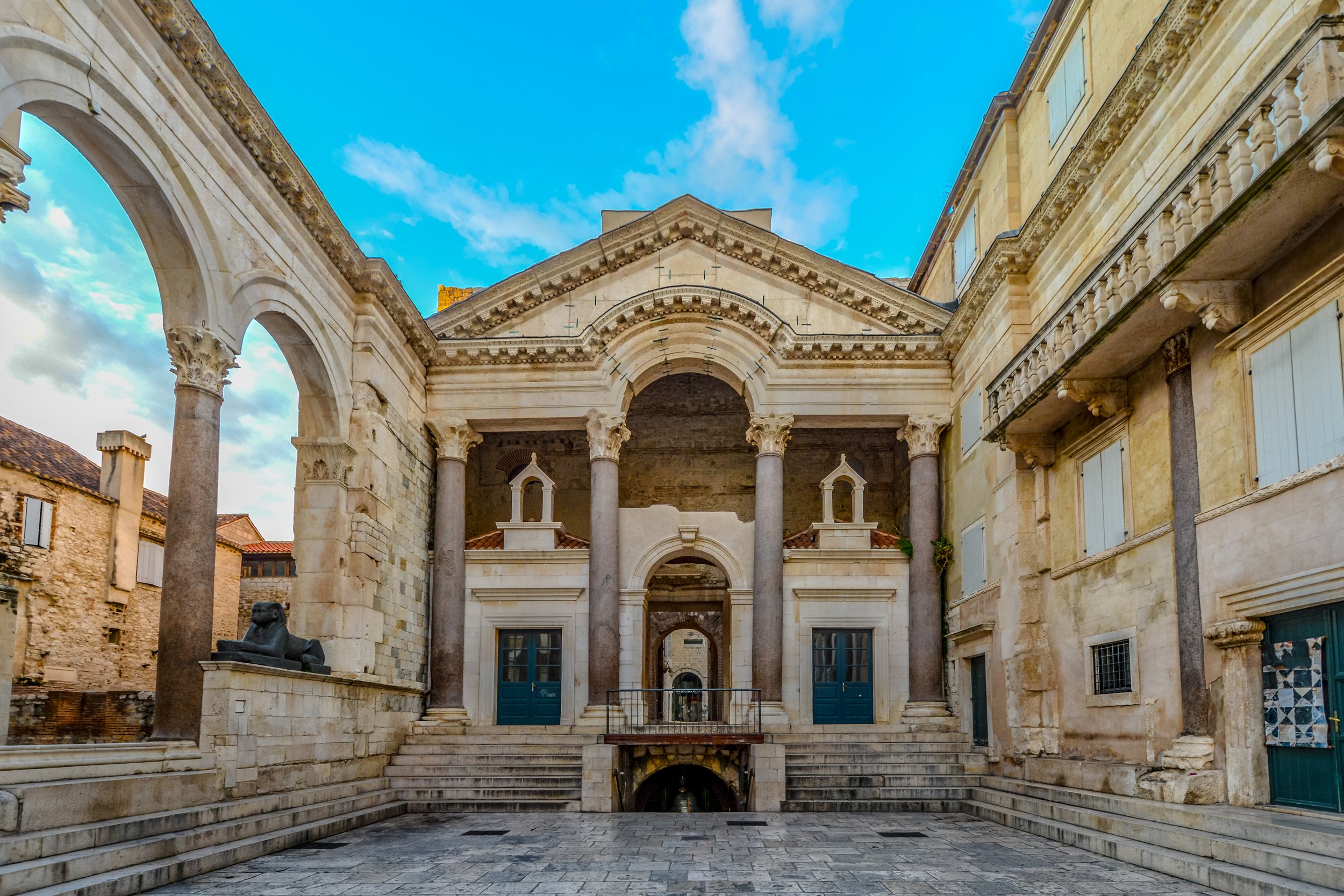 Diocletian's Palace in Split - Croatia
Days 7-10: Split
Split is the largest city in the Dalmatian region and is known for its beautiful waterfront and beaches, stunning architecture, and historic sites. From Zadar to Split, it takes almost 2 hours by car.
Top 10 things to do in Split:
Diocletian's Palace – a tremendous palace of a Roman emperor and a World Heritage Site

The Old Town – a charming historic town with cafes, restaurants, and a beautiful old town clock

St. Domnius' Cathedral – an eight-sided Catholic cathedral built as a mausoleum for Diocletian

St. Domnius' Bell Tower – a tall Romanesque bell tower with views over the old town's rooftops

Riva Promenade – a beautiful waterfront promenade with restaurants, bars, and cafes

Marjan Hill – a famous peak for walking and fantastic city views Golden Gate – one of the entry points of Diocletian's palace complex

Statue of Grgur Ninski – a tall statue of Croatian bishop and icon

Mestrovic Gallery – the most extensive collection of Mestrovic's work

Klis Fortress – an ancient military fortress near Split
Best one-day trips from Split:
Sibenik - a beautiful historic place and the third-largest city in the region of Dalmatia

Krka National Park – a nice park known for a series of 7 beautiful waterfalls

Brac Island – the largest Dalmatian island with many beautiful beaches

Golden Horn Beach (Brac Island) – a day cruise to the Croatia's most famous white-pebble beach

The Blue Lagoon – a gorgeous bay with turquoise water great for swimming and snorkeling

Solta Island – a hilly island known for charming villages and a great spot for relaxation, swimming and snorkeling

The Roman Ruins of Salona - an archaeological site from Roman times, built before the Diocletian's Palace in Split, located near the town of Solin

Trogir – a gorgeous tiny town and lovely gateway from Split

Vis Island – a wild island a bit further from Split is an excellent spot for relaxation and quiet time

Cetina Canyon – perfect for outside activities like zip lining, canyoning, kayaking, or rafting
The 5 best beaches in Split:
Bacvice Beach

Znjan Beach

Kastelet Beach

Bene Beach

Kasjuni Beach
Dubrovnik - Croatia
Days 11-14 – Dubrovnik
Dubrovnik is one of Croatia's most visited destinations and is known for its historic Old Town, beautiful buildings, museums and galleries, and stunning beaches.
"The Pearl of the Adriatic" is the last destination in this travel itinerary.
If you travel to Croatia for the first time, Dubrovnik should be a must-see on your travel bucket list.
There are more options on how to get to Dubrovnik. You can drop off your car in Split and take a ferry to Dubrovnik. It takes about 4.5 hours to get there. If you travel from Split by car, it takes about 3 hours drive. So, it's worth starting the trip early morning.
Top 10 things to do in Dubrovnik:
Old Town – a medieval city with narrow streets and many historical attractions

Walls of Dubrovnik – historical city walls with stunning views

Stradun – the main street in Dubrovnik and Dubrovnik's famous promenade

Rector's Palace - a Gothic-Renaissance palace and museum

Dubrovnik Cathedral – a Romanesque cathedral with unique interior's artworks

Franciscan Monastery – a beautiful complex consisting of a monastery, church, library and, a must-see pharmacy

Sponza Palace – this charming palace is the home of the Dubrovnik's archives

Clock Tower – this 31 meters high bell tower is a significant landmark of the Old Town

Lovrijenac Fort – a historic fort with views

Cable Car Dubrovnik – this cable car takes you to the top of the Mount Srd for the best views of Dubrovnik
What else to do in Dubrovnik?
Fort Imperial – an old fort famous for panoramic views of the city and sea

Game of Thrones Tour – a tour for fans of this favorite TV show to see all the famous sites where the show was filmed

Sea Kayaking Tour – a guided sea kayak tour for all who love adventures

Food and Wine Tour – a guided tour for food and wine lovers who want to try local specialties and tasty wine

Trsteno Arboretum – the oldest arboretum in Croatia with beautiful gardens just half a hour by car from Dubrovnik
Best one-day trips from Dubrovnik:
The 5 best beaches in Dubrovnik:
Bellevue Beach

Uvala Lapad Beach

Sulic Beach

Sveti Jakov Beach

Dance Beach
Have a wonderful time in Croatia and don't forget to write notes, attach photos, and check off all the destinations from the travel bucket list in your Travel Challenge Book - Europe!
If you decide to explore more destinations in Croatia, check The Complete 28-Day Croatia Travel Itinerary for 2023.